Few realize the Christmas season ends on Jan 6,
which is the official 12th day of Christmas, also known as Twelfth Night – Little Christmas - Theophany -
and in the Roman liturgy is referred to as
"The Feast of the Epiphany"
Wikipedia gives a decent explanation of this regularly ignored Christian holiday (no $$ to be made) ...

in a nutshell, it celebrates that the kings have finally arrived at the party but find they are the only guests …
so be it –
medicine folk work best in the shadows anyway …

it has long saddened me that the events of the Epiphany are but a footnote to the Christmas story
when in all truth it carries the genesis to the christmas miracle …

we confuse the miracle with the baby –
it was no miracle that Jesus was born –
Mary was pregnant, his birth was imminent …

the miracle was that he was not murdered by Herod –

imagine, just having had a newborn,
getting wind that his life was being targetted,
and urgently trying to plan an escape with no resources
imagine hormone driven panic in such a case …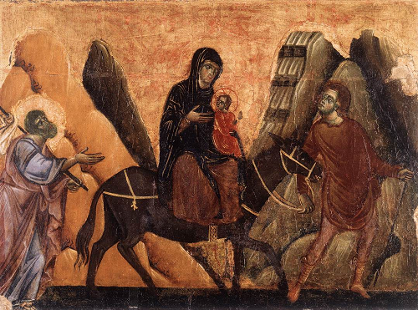 The Flight into Egypt,
showing St. Simeon at the left (Luke 2:25)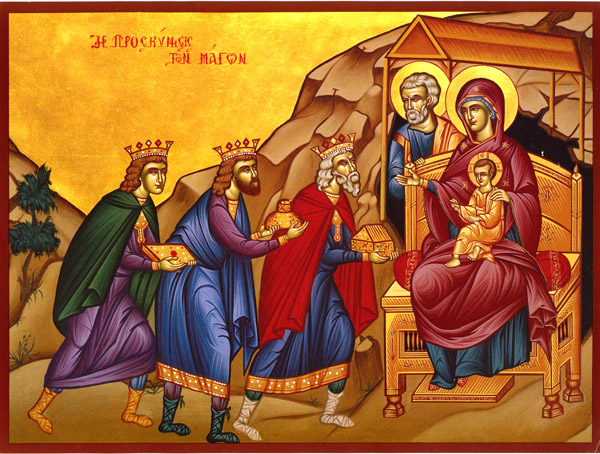 and then out of nowhere these three strange looking men --
your first reaction? they've come to kill your son …

followed by your second reaction to being handed the means of escape
in riches beyond what you'd ever imagined…


surely in that moment of manifestation, to Mary and Joseph,

Grandfather's being shouted into their first person: "I AM"


this is what should be celebrated on jan 6 -

is it any wonder Grandfather's magic is so rare,

when we have all but forgotten how to honour its manifestation?


to those who are earnestly looking yet still cannot see magic,
consider it this way:
perhaps you are the magician, the bringer of magic ...

want to get in touch with the meaning of the feast?
act upon your responses to this question:
who do you know that needs a magician
with what you have to offer?
we all have abilities and skills RIGHT NOW ...
go knock on your neighbour's door - be a bringer of magic.
it all starts NOW --
so how many more NOWs will we waste in the starting gate?
...a closer look
The significance in the Feast of the Epiphany becomes clear when we look at the origins of the word epiphany, which are traced back to in Middle English epiphanie, Late Latin epiphania, and Greek epiphaneia, all of which express the idea of 'manifestation' defined as, 'to show plainly' - quoting the Free Online Dictionary

The Feast of the Epiphany celebrates 3 manifestations... or majik, if you will ...
In addition to the Three Kings' timely rescue, the feast also remembers the presentation of the child at the Temple and subsequent prophecy of Simeon, as well as the baptism of Jesus later in life. On all 3 occassions the manifestation is undeniable identification of Jesus ...

first from the kings who got the news from stars -
then Simeon at the Presentation who, as reported in Luke 2:28-30 ...took the child in his arms and praised God, saying, "Sovereign Lord, now let your servant die in peace,as you have promised. I have seen your salvation"

And finally Luke (in 3:21-22) tells us One day when the crowds were being baptized, Jesus himself was baptized. As he was praying, the heavens opened, and the Holy Spirit, in bodily form, descended on him like a dove. And a voice from heaven said, "You are my dearly loved Son, and you bring me great joy."

epiphany: manifestation of the divine - miracles - magic


-NHT
©2015, 2016

all rights reserved