An American Indian "Lost One"
a generation of NDN children were lost to their People - i am one of them, a Lost One -
my story begins in Chelsea, MA, a village of Boston
where, six months in the first monkey wrench was thrown. when i was abandoned to the landlady and later, way later, only knew that my mother was full-blooded American Indian -
i'd not know her name or birthplace for 30+ years -
it would be the only verifiable info i'd ever find on her - internet and all.

i grew up in the White Man's world until the age of 12 when adoption stole my name and strangers told me to be somebody else now...
it took almost 40 years to get back my own name

Boston born and bred when indigenous meant exotic or, worse, invisible - even what little was known
of my heritage was kept from me -
and despite these well meaning attempts to shush truth, i'd always held inside a quiet self-knowledge,
eventually validated by the Wampanoag traditional leader, Gertrude Haynes Aikens, a/k/a Princess Evening Star.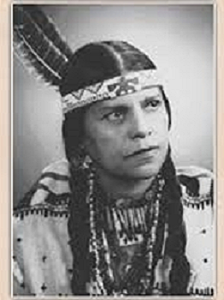 Wampanoag Princess Evening Star
our meeting was memorable if only for me,
a newly licensed 17 year old who gave into curiosity
and stopped in at the Princess's gift shop teepee --
i was shy, and she was most gracious despite weariness from battling local officials to protect her people's ancient burial grounds -
by the end of our visit, though, she had become inexplicably impatient.
Later i found out she was dying.
i treasure the memory of her honouring me
in a manner locally reserved only for Natives -
she told me that my people were of the 'southwest,'
Navajo Diné, she said.
i still have the Navajo doll she gave to me -
Princess Evening Star is the reason why, at 17 believing i'd found my people, i immersed myself in studying everything Navajo -
it was easy, the Diné seemed so familiar, a long lost home to my solitary heart -

when this New Englander actually travelled Navajo lands, inside me, thoughts and places opened up of which i'd had no prior knowledge, only suspicion ...
the very faces of the Diné reached into my soul -
i had never before seen anyone who looked like me,
and those desert museums held myriad photos
of Navajo children who felt like lost relatives ... so it was in Navajo land that my medicine became alive

Also by then i knew my mother's name and was delighted by Southwest telephone books to find her surname as common in Navajo land as Smith is in England which might seem to confirm the Wampanoag's words -

...except there's a twist in this story strongly suggesting that i may very well be Choctaw Chahta ...
my mother's birthplace incorporated into the Choctaw Nation in 1901, well before she was born.
Additionally the Choctaw are one of the tallest natives - recently i've shrunk to 5'10" from my lifelong 6' stature...

But if nothing else, my life has been full of monkey wrenches and so here is the wrench to toss into THAT story:
in records of all 5 Muskogean Tribes, of which Choctaw is but one, not a single family is listed with my mother's surname by which she is identified on legal paperwork

As it happens legal paperwork weighs more than hearsay, and the document i have with my mother's birthplace has recently earned "unofficial" recognition by the Choctaw.

i confess, after 6 decades of being told who i am, and who to be, while it feels good to be attached to a specific tribe, i also realize that in the end none of this will matter -
what matters most is that my medicine, whether Diné or Chahta, be as valid as any other's chosen by this path -
and while this path is traditionally and culturally informed, for the Lost Ones who walk this path,
teachings of Spirit transcend tribal or cultural boundaries

This Breed's Other Half
Because only my mother was full NDN,
i am also known as a "Breed" -
the man who called himself my father
was nearly full blooded, legendary Black Irish
you know, the unusual-looking Irish
with black hair blue eyes

while i inherited my mother's colouring,
it was by this man
who held it a fatherly duty to ensure unbroken connection to his Celtic background,
that he named me in Gaelic
for his favourite place on the Emerald Isle -
thus my unusual given name often begged
why i didn't look Irish ...
Raised Irish cradle Catholic
during the time when the coming, sweeping changes (often misinterpretted) were barely thoughts in the mind of JPXX111,
my elementary learning was steeped in old school education
from the venerable, Sisters of St. Joseph,
whose
Jesuit-founded
Rule dates back
My teachers were keepers of Catholic esotericism,
and because my experience was far more intimate with them
than one might imagine,
these sisters of the mystical
became more like tutors to me than teachers.
By pure happenstance a member of the family
who were my caretakers at the time
was in fact a Sister of St. Joseph -
accounting for my memories of solitary sunday afternoons
roaming strange convent grounds
while adults behind stone walls enjoyed visits
with their loved ones.
Then by pure chance only, this family member became assigned
to the parochial school i attended
Contrary to what one might think,
i did not become the 'star child' of all my peers
for having a 'nun as an aunt' --
instead i followed family instructions
to keep my secret as an exercise in humility ...
Nuns are rarely impractical,
and that's how i ended up every afternoon
waiting for my ride home in the convent's front parlour
where,
again as instructed,
and fairly lost in an overly large wing-backed chair,
i eagerly awaited the melody
of my teachers' afternoon prayer
to waft down the hall and gently into my hearing ...
for a time i thought i would become a nun,
until i realized my aries sun would make a lousy nun (the zodiac's leader, aries cannot abide blind obedience)
i have been lifelong grateful to these women who,
in lovingly, Jesuit fashion nurtured my Celtic sensibilities and set me
on the path
of my American Indian heritage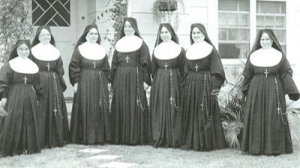 the venerable Sisters of St. Joseph
my teachers of Catholic esoterics
Mitakuye Oyasin
(Lakota), loosely translated:
"
We are all related"
Ah-sheh'heh (Navajo) Ya ko kae (Choctaw) Philámayaye (Lakota)
"Thank you"


NHT

©2013, 2015, 2017, 2018, 2019

all rights reserved