Long Ago Liturgical Designs


In another lifetime many, many years ago, raising children 3000 miles away from home,
i returned to old roots, and parish life once again became central to family life.
Eventually installed as Liturgist, Director of Altar Servers,
Extraordinary Minister of Communion, and Catechist,
i endured Father's playful jokes about having to charge me rent.

Naturally the designer in me wanted to get in on the party -
so the artist me kicked in
photos of work from that time period are rare -
usually film got lost because often there was little money left to develop it
('let's see - film or milk?')

below are a few examples and digital sketches of my long ago liturgical work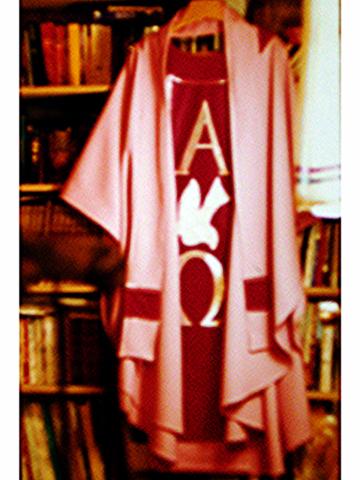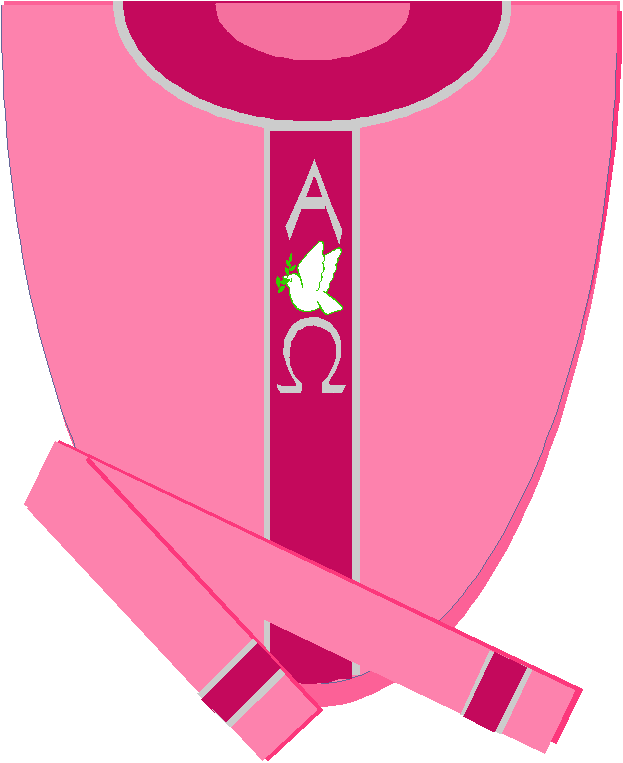 The Rose Chasuble
Worn only two Sundays of the liturgical calendar - on Gaudete Sunday (third Sunday of Avent) and on Laetare Sunday (fourth Sunday of Lent), most parishes, like ours, didn't have one ... so i made us one.
Fashioned from pink double knit with deep raspberry micro-suede and trimmed in silver lame, it features a front applique of a white on white silk dove, finished with an embroidered olive branch in her mouth -- encircling her are the alpha and omega symbols in silver lame (which is a real pill to satin stitch) -
in the photo at left, the stole is around the neck and blocks some of the chasuble ... again, i didn't think of 'staging a shoot'...clearly
The Marian Chasuble

this is another 'optional' chasuble
which only richer parishes usually had -
while i prefer not to repeat designs,
i did make two versions of this one -
one for the parish and one for a Mexican priest (see below)
helping out with our huge Latino community
...and i have a picture of neither design,
but the digital sketch allows a really good image :(

this chasuble is the palest of eggshell white double knit fabric,
trimmed in muted sky blue, tone-on-tone satin
which is then further trimmed in silver lame strips;.
the matching stole features appligued chi rho symbols

The Miraculous Medal is the unmistakeable centerpiece.
Both front and back of the medal are executed
in quilted silver lame which works up
into a textural replica of the medal -
additionally the prayer, "Ave Maria" (Hail Mary),
hand embroidered, flanks the medal, above and below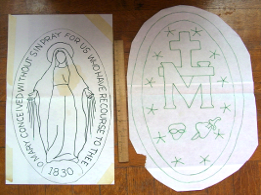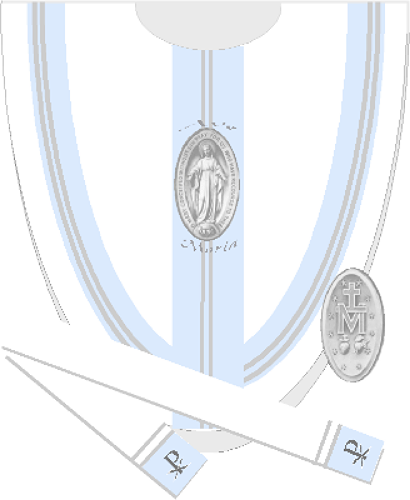 above, digital sketch of Marian Chasuble
at left, aged quilting patterns with 12" ruler for scale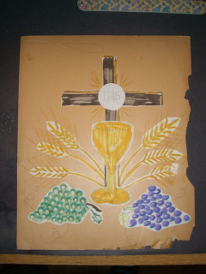 Open Air Altar
The Mexican priest mentioned above was a bit of a rebel,
and would eventually get in trouble for doing the right thing, actually -
alongside him would be the altar servers and i,
in a story of imagined boundaries meaning something --
it happened like this -
our parish was on a river marking the boundary between two states ...
and just across the river from us were 200-300 migrants
who worked the orchards 10 miles from the river,
50 miles from their own parish center,
which is why their priests were not wont to serve these folks ...
so our priest friend did the unthinkable -
he crossed the river and served his compatriots on his own time --
First it was just Father with his Mass kit but the stories he kept sharing
of authentic Mexican food served afterwards charmed first one server
then another until well-served "Mass" was followed by a full-fledged fiesta,
with bonfires, music and dancing.
Father decided he then needed an altar and spoke with a parish woodworker
about something easily transported to site and stored in a barn between visits...
when Father brought the finished altar for me 'to put something' on the front..
i told him truthfully, "i don't draw" and suggested he ask the kids
among whom i knew were a couple phenomenal budding artists -
but Father never took no as an answer. "It must be' yours," he insisted
naturally, i don't have a photo of the altar,
but at left is the very old sketch i made for his approval ... does that count?

...oh, and how did Father get in trouble? well, he crossed the river, remember?
that meant he was in the wrong state and, more importantly, the wrong diocese
whose higher ups indignantly complained so loudly, calling for retribution,
that our parish lost an amazing priest on a mere technicality!!

i often wonder whatever happened to him ...
his story is really why i shared my pathetic attempt to decorate an altar


-NHT
to shop NHT's design work either onsite or at Etsy,