St Francis of Assisi isn't who he is
because he's Christian but because of a side to him
little known or understood by western religious ...
while it's true, Francis is considered the 'universal saint,' most beloved globally for his connection to animals
and his gentle heart with his fellow man …
did you know that this man appears in Persian writings,
and is scrutinized from their point of view?

In The Sufis, Idres Shah (1924-1996), Sufi author/teacher
draws some amazing parallels between Francis and the Sufis which are backed up by history and records of Francis' travels…
Traditional biographers openly confess to not understanding
his travel intentions - for instance his 'wandering' all of Spain,
when in fact the places he visited happened to be Sufi …
further Shah provides compelling circumstantial evidence of Sufi practices and stories showing up in Franciscan tradition –
take the saint's poetry for instance whose themes and imagery seem to recall the work of his Sufi contemporary, Rumi …
all of which beg the question for this reincarnationist:
is it possible that Francis was 'remembering' and in his travels had gone looking for his past life Sufi roots?
this reincarnationist says 'yes'

as for Sufism, it is a beauty to which Spirit
opened my own heart early in life by felling another book
off a shelf (like with Black Elk's teachings) -
this particular bookstore trip was for Ram Dass's Be Here Now and though i was told by a clerk that it had sold out,
i checked for myself and there on the floor
by a 'sold out' sign was Toward the One …
i'd never seen this book before, but i knew it was mine
what caught my eye was the synchronicity of the cover's mandala honouring the symbol of each majour religion'
because i had just featured the very same symbols on vibrantly painted 'stained glass windows' using onion skin and construction paper - i still have them though they're quite faded now

exploring Sufism helps to understand Francis more completely,
especially those of his stories which we graciously forgive
(running naked through the town square, etc.)
the Lakota would refer to that side of Francis as heyoke
the holy jestor who is only allowed to get away with his shenanigans because by his 'insanity' he teaches a higher learning to the people ...
ultimately amidst all his foolishness Francis demands we treat each and every person we meet with the same forgiveness and honour that Francis enjoys from us …


It is said, "Every age of the world has seen awakened souls, and as it is impossible to limit wisdom to any one period or place, so it is impossible to date the origin of Sufism." -Inayat Khan
Francis recognized this impossibility to limit wisdom -
and if we fearlessly apply this lense of Sufism to what we already know about Francis, an unexpected bridge opens before us offering timely answers to today's changing world
-NHT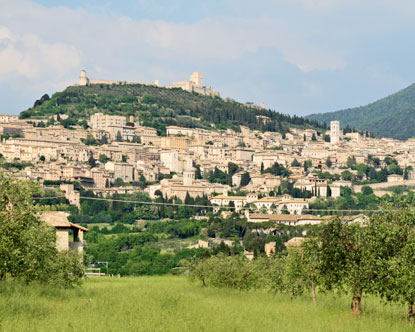 a local statue of Francis - his halo is etched with symbols of the world's six majour religions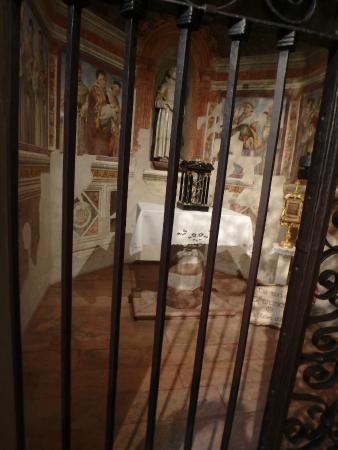 the cell where Francis died
sources
---to read Idres Shah's full piece of "The Sufis and Francis of Assisi" click here then click to page 228
---to learn more about the Sufis, click here
---explore Francis under today's microscope click here and read an article from the New Yorker magazine