custom design Ribbon Shirt Styles
exclusively at Nay_ho_tze Originals
What story will your shirt tell?
TRADITIONAL

while the Traditional Ribbon shirt is the simplest in design, my traditional is typically more detailed than is commonly seen in ribbon shirts - i like to work some kind of pattern across the chest/back or down the sleeves, etc.


it is my starting place for the other two styles –
read the story of NHT's first ribbon shirt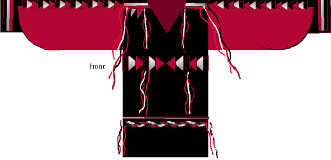 ANCESTOR
this design takes the Warrior Ribbon shirt to a whole new level of skills -detailed applique work allows limitless expression of one's soul -
Rich with texture, depth, and meaning to you,
the Ancestor Ribbon Shirt is an heirloom today which will be worn by tomorrow's descendants with pride as they tell your story ...

click here to view photos of the WOLFSONG ANCESTOR Ribbon Shirt
click here to view photos of the EASTERN WOODLAND ANCESTOR Ribbon Shirt
related reading: a designer's Bragging Rights